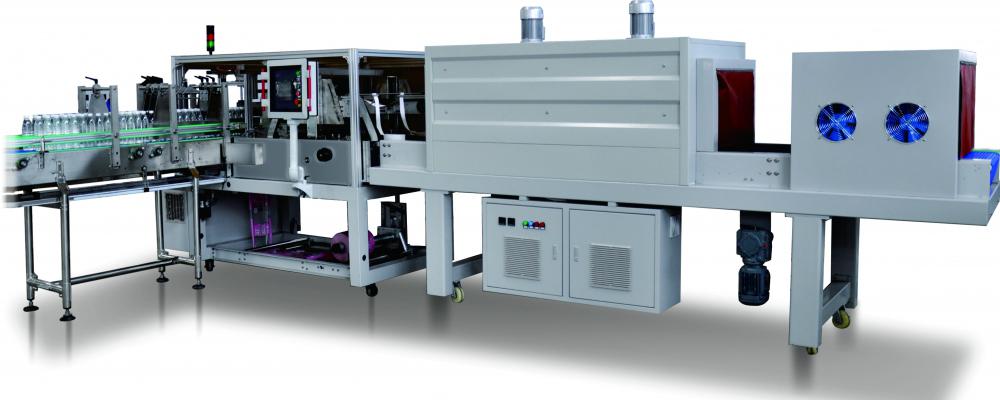 Application
The YCBS18 shrink wrapping bundler features a packaging speed of 18 pcs/min and is suitable for shrink film packaging of beer, beverages, fruit juices, bottled water, dairy products, condiments, and so on. It can be designed with or without tray.
Technical parameters
| | |
| --- | --- |
| Equipment model | YCBS18 |
| Machine dimension | L8200mm*W4050mm*H1800mm |
| Shrinkage tunnel dimension | L1800mm*W650mm*H450mm |
| Maximum package dimension | L400mm*W290mm*H315mm |
| Packing speed | 18 pcs/minute |
| Conveyor belt width | 368mm |
| Working voltage/power | 3Phase 5Line 380V/50Hz 41KW |
| Working pressure | 0.6-0.8Mpa |
| Air consumption | 60NL/min-80NL/min |
Features
The YCBS18 shrink film packaging machine has a unique film unwinding device and film constant tension conveyor. The machine can carry out instantaneous film cutting, automatic film overlapping and wrapping, and high strength shrink packaging.
Servo motor control system, bottles or cans infeeding, film feeding, film cutting and film wrapping are precisely synchronized, stable and reliable.
It has a user-friendly interface, fast parameter setting, convenient communication and manipulation with touch LCD screen.
A unique hot air circulation structure is adopted in shrink room with smooth belt transmission, high abrasion resistance and long service life.
---
When it comes to secondary packaging equipment, Beijing YCTD Packaging Machinery Co. is king! First established in Beijing in 2001, YCTD specializes in the design and production of equipment used to wrap beverages after their initial packaging. With nearly 2 decades of experience, we have become a leading packaging solutions provider, working with some of the largest beverage producers in the world. Some of our partners include, Huiyuan Group, Coca-Cola, Pepsi, Dali Group, Wanglaoji, Cestbon, Ganten, Uni-President Group, and Master Kong. Our main series of products is made up of heat shrinkable packaging machines, case erector packers, stacking systems, and conveying systems. Quality is what drives us forward and we have built a company strategy around delivering quality products and services to our valued customers.