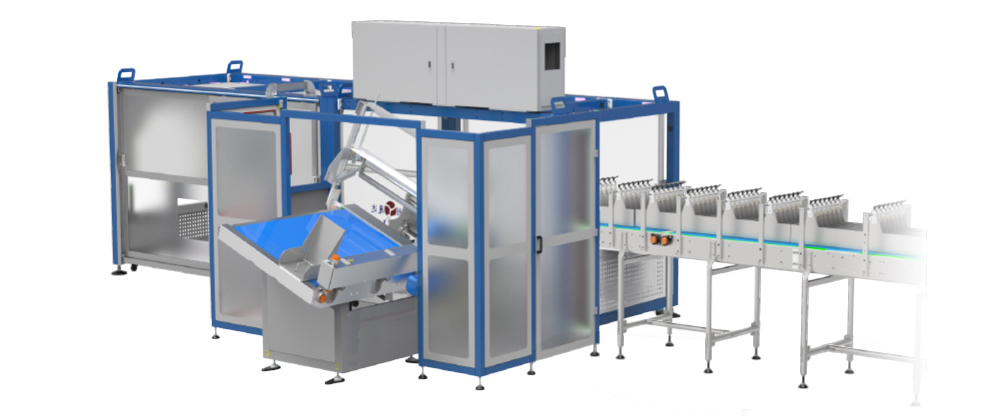 Application
The YCZX40 wrap around case packer's production capacity is 35 cases/min, which is suitable for carton packaging on bottle (can) production lines for beer, other beverages, bottled water, medicine, food, and more. With this packaging method, users can save about 1/5 of the cost of packaging materials when compared to traditional packaging methods.
Technical parameters
Model
YCZX40
Machine Dimension
L10810mm*W4900mm*H2620mm
Formed Carton Dimension
Max:480*320*340mm
Min: 264*198*116mm
Capacity
35 cartons/min
Power Supply Capacity
3 Phase 380V 50Hz/13KW
Hot-melt Adhesive Solidify Time
1.5~2S
Working Air Pressure
0.6~0.8Mpa
Machine Weight
7000kg
Bottle Height
116~340mm
Bottle Diameter
Φ50~180mm
Features
Improves various wrapper packaging control functions, detect errors and display messages automatically for maintenance and guidance with human-computer interaction interface.
Uses a well-known electrical control system and servo control system with stable operation and high efficiency.
Reasonable cardboard-feeding structure: Cardboard is controlled by the servo control system in batches from tilted to flat, ensuring a stable supply.
Linear structure, wide-face feeding mode, carton gluing located on the left and right sides and long holding time to make the carton stronger.
Using famous hot melt adhesive equipment, operation is easy, and the equipment is durable. Products are packaged with a neat, beautiful appearance, and are easy to store and transport. easy operation and durability.
---
When it comes to secondary packaging equipment, Beijing YCTD Packaging Machinery Co. is king! First established in Beijing in 2001, YCTD specializes in the design and production of equipment used to wrap beverages after their initial packaging. With nearly 2 decades of experience, we have become a leading packaging solutions provider, working with some of the largest beverage producers in the world. Some of our partners include, Huiyuan Group, Coca-Cola, Pepsi, Dali Group, Wanglaoji, Cestbon, Ganten, Uni-President Group, and Master Kong. Our main series of products is made up of heat shrinkable packaging machines, case erector packers, stacking systems, and conveying systems. Quality is what drives us forward and we have built a company strategy around delivering quality products and services to our valued customers.