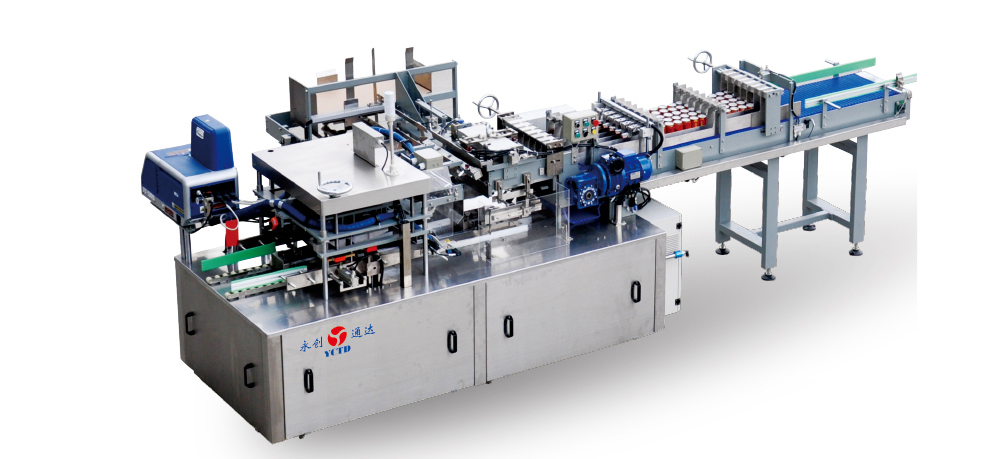 Application
The YCZX35 case packer, case packing machine features a production capacity of 25-30 cases/min, and is suitable for carton packaging for bottle (can) production lines such as beer, beverages, bottled water, medicine, food, and more. Cardboard wrapping method saves about 1/5 of the cost of package materials compared to traditional packaging methods.
Specification
| | |
| --- | --- |
| Model | YCZX35 |
| Machine Dimension | L5100mm*W2500mm*H1800mm |
| Molding Carton Dimension | 550 < L+W+H < 1000 |
| Capacity | 25-30 cartons/min |
| Power Supply Capacity | 380V, 50Hz/7KW three phase |
| Hot-melt Adhesive Solidify Time | 1.5 ~ 2S |
| Working Air Pressure | 0.6 ~ 0.8Mpa |
| Machine Weight | 2500kg |
| Air Consumption | 600 NL/min |
Features
A combination of the centralized system and human-machine interface improves the various control functions for wrapper packaging. Users can directly, enter, modify and store the parameters for multiple package specifications.
Using flat cardboard one-time wrapping and unique forming carton technology, the carton is more firm with a pleasing exterior, and the operator's labor intensity requirements have been lowered.
This equipment uses a famous hot melt adhesive equipment, and features easy operation and durability. Packaged products have a neat, beautiful appearance that are convenient for storage and transportation.
With a small machine body, the equipment is safe and saves space.
---
When it comes to secondary packaging equipment, Beijing YCTD Packaging Machinery Co. is king! First established in Beijing in 2001, YCTD specializes in the design and production of equipment used to wrap beverages after their initial packaging. With nearly 2 decades of experience, we have become a leading packaging solutions provider, working with some of the largest beverage producers in the world. Some of our partners include, Huiyuan Group, Coca-Cola, Pepsi, Dali Group, Wanglaoji, Cestbon, Ganten, Uni-President Group, and Master Kong. Our main series of products is made up of heat shrinkable packaging machines, case erector packers, stacking systems, and conveying systems. Quality is what drives us forward and we have built a company strategy around delivering quality products and services to our valued customers.