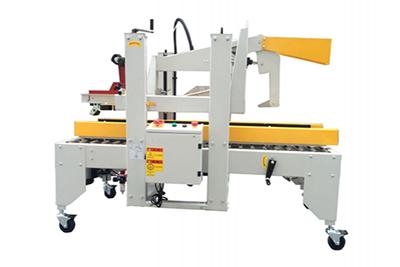 YCFX25 case sealer can manually adjust the size of the carton, and is suitable for simultaneous carton sealing of the same specifications. With easy operation, convenient use, easy adjustment, rapid sealing, high efficiency, sturdiness and durability, it can be used separately or used in combination with packaging lines after automation. It is suitable for the sealing of carton boxes in various industries such as household appliances, textiles, food, daily necessities, pharmaceuticals, light industry, chemical industry, and more.
Specification
| | |
| --- | --- |
| Model | YCFX-25 |
| Power supply | 220V 50HZ |
| Power | 400W |
| Maximum package size | L600*W500*H500MM |
| Power supply Minimum package size | L200*W150*H150MM |
| Transport speed | 0~15m/min |
| Adhesive tape width | 2"or 2.5"or 3" |
| Package size | L1700*W900*H1500MM |
| Machine weight | 180KG |
Features
Horizontal carton storage can add empty cartons without any downtime, which saves time and improves efficiency.
This machine completes the carton suction box, unpacking, forming, folding bottom, sealing bottom and other processes simultaneously.
With a cam continuous system, mechanical operation is precise.
Forming and sealing using variable speed control, it can adjust the speed and save working hours.
Suitable for carton opening and carton bottom sealing of various size. If changing the carton size, you can adjust it manually in just 3-5 minutes. It has an automatic warning reminder to add cartons.
It uses PLC and man-machine interface control to achieve automatic unpacking, automatic f fold down the bottom cover and automatic sealing of the bottom of the carton, which features easy operation, simple maintenance, stable performance and is an essential assembly line equipment for automatic scale production.
This machine replacing labor can reduce 3-5 packers at least, save 5-10% of consumable material, increase the efficiency of 40%, reduce costs greatly, improve efficiency and standardize packaging.
---
When it comes to secondary packaging equipment, Beijing YCTD Packaging Machinery Co. is king! First established in Beijing in 2001, YCTD specializes in the design and production of equipment used to wrap beverages after their initial packaging. With nearly 2 decades of experience, we have become a leading packaging solutions provider, working with some of the largest beverage producers in the world. Some of our partners include, Huiyuan Group, Coca-Cola, Pepsi, Dali Group, Wanglaoji, Cestbon, Ganten, Uni-President Group, and Master Kong. Our main series of products is made up of heat shrinkable packaging machines, case erector packers, stacking systems, and conveying systems. Quality is what drives us forward and we have built a company strategy around delivering quality products and services to our valued customers.