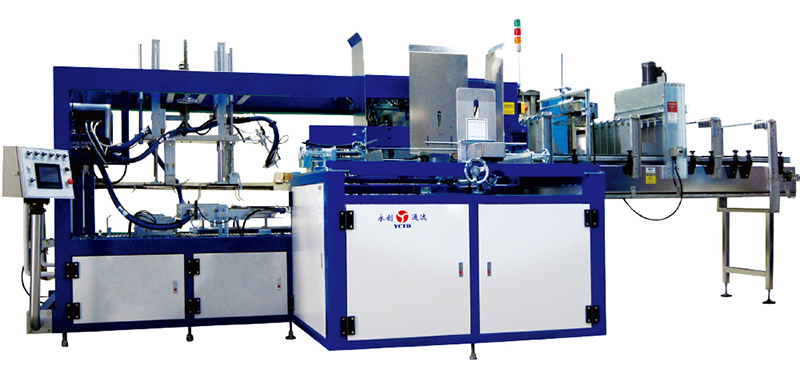 Application
The production capacity of the YCZX25 case packer, case packing machine is 20-25 cartons/min. It is used in PET bottles, PP bottles, glass bottles and Tetra Paks. It is easy to change the bottle type, and suitable for a variety of combination packaging methods.
Specification
Model
YCZX25
Machine Dimension
L6350mm*W2660mm*H2130mm
Molding Carton Dimension
Max=450mm(L)*340mm(W)*315mm(H)(or special specification )
Min=285mm(L)*165mm(W)*90mm(H)
Capacity
20-25cases/min
Power Supply Capacity
Voltage:380V Power consumption:8 kw
Working Air Pressure
0.6~0.8Mpa
Air Consumption
1000 NL/min
Features
Bottles are fed using a plastic mesh belt conveyor, which arranges the bottles neatly, with options of six rows, five rows, or four rows bottle-feeding according to your needs.
Using a robot arm ensures the paper and product reach the positioning point, and the product will lightly fall on the paper. The machine structure is reasonable, and machine is lighter and more stable.
This case packer, case packing machine uses a famous hot melt adhesive equipment, and features easy operation and durability. Packaged products have a neat, beautiful appearance that are convenient for storage and transportation.
---
When it comes to secondary packaging equipment, Beijing YCTD Packaging Machinery Co. is king! First established in Beijing in 2001, YCTD specializes in the design and production of equipment used to wrap beverages after their initial packaging. With nearly 2 decades of experience, we have become a leading packaging solutions provider, working with some of the largest beverage producers in the world. Some of our partners include, Huiyuan Group, Coca-Cola, Pepsi, Dali Group, Wanglaoji, Cestbon, Ganten, Uni-President Group, and Master Kong. Our main series of products is made up of heat shrinkable packaging machines, case erector packers, stacking systems, and conveying systems. Quality is what drives us forward and we have built a company strategy around delivering quality products and services to our valued customers.