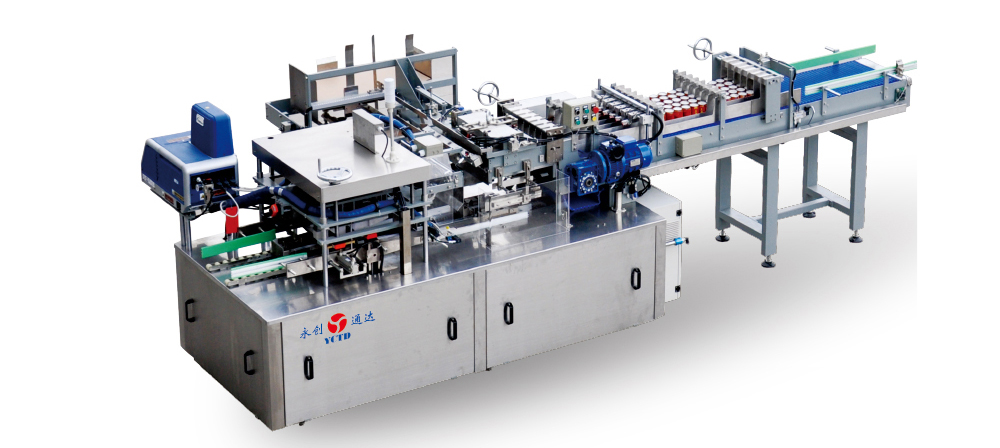 Specification
| | |
| --- | --- |
| Model | YCKX18 |
| Unpacking capacity | 18cases/min |
| Carton temporary storage | 100pcs(1000mm) |
| Carton dimension | L:250-400 W:150-350 H:100-350mm (The minimum size cannot appear at the same time) |
| Power | 220V 1ф 200W |
| Air pressure | 6kg/cm2 |
| Air consumption | 450NL/min |
| Machine dimension | L2400×W2050×H1450mm |
| Tape size | 48, 60, 75mm |
| Machine weight | 550kg |
Features
The YCKX18 case erector with an unpacking capacity 18 cases/min, is suitable for carton opening and carton bottom sealing of various sizes. If changing the carton size, you can adjust it manually with simple and convenient operation.
It uses PLC and man-machine interface control to achieve automatic unpacking, as well as automatic fold down the bottom cover and automatic sealing on the bottom of the carton, which features easy operation, simple maintenance, stable performance and is an essential assembly line equipment for automatic scale production.
Folding without stop, folding and sealing bottom are completed during transportation. Suction box, forming, folding bottom and sealing bottom are completed in 3 s, which is high speed, stable, convenient and economical.
This machine significantly lowers labor rates, by 2 to 3 operators, saves 5-10% of consumable materials, and increase the efficiency by 30%, thus significantly reducing costs, improving efficiency and standardizing packaging.
---
When it comes to secondary packaging equipment, Beijing YCTD Packaging Machinery Co. is king! First established in Beijing in 2001, YCTD specializes in the design and production of equipment used to wrap beverages after their initial packaging. With nearly 2 decades of experience, we have become a leading packaging solutions provider, working with some of the largest beverage producers in the world. Some of our partners include, Huiyuan Group, Coca-Cola, Pepsi, Dali Group, Wanglaoji, Cestbon, Ganten, Uni-President Group, and Master Kong. Our main series of products is made up of heat shrinkable packaging machines, case erector packers, stacking systems, and conveying systems. Quality is what drives us forward and we have built a company strategy around delivering quality products and services to our valued customers.