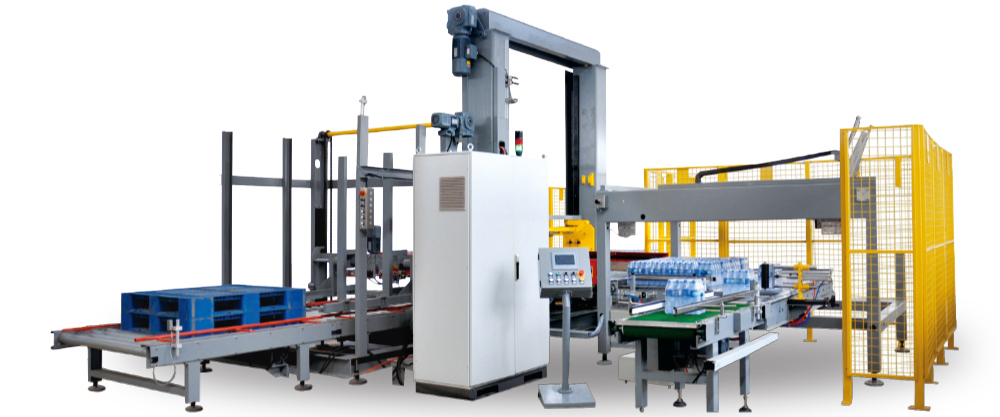 Specification
| | |
| --- | --- |
| Production capacity | 40 cases/min |
| Total power | 0.6-0.8Mpa |
| Working pressure | 10kw |
| Weight | 7500kg |
| Machine dimension | L9120mm *W6150mm *H3500mm |
| Maximum stacking height | 1750mm |
| Maximum stacking weight | 1600kg |
| Air consumption | 500 NL/min |
Features
The gantry palletizing system uses side case-feeding, which allows the equipment to take up less space, and a conveying system into palletizer is simplified. This saves up to 50% of the costs when compared to a robot pallet.
It features a more advanced structure, lighter and more stable movement, and lower power consumption with the use of an international advanced layer-by-layer palletizing design concept.
Using PLC program control, frequency control, carton delivery, sorting, stacking, unloading pallets, a full pallet load output can be automated.
With high security, powerful diagnostic functions, multiple safety design and instant display of faults, personal safety and easy maintenance are guaranteed.
It is convenient and simple to adjust the stacking method on the human-machine interface and there is no need to replace stacking parts.
Carton or shrink pack can be palletized.
---
When it comes to secondary packaging equipment, Beijing YCTD Packaging Machinery Co. is king! First established in Beijing in 2001, YCTD specializes in the design and production of equipment used to wrap beverages after their initial packaging. With nearly 2 decades of experience, we have become a leading packaging solutions provider, working with some of the largest beverage producers in the world. Some of our partners include, Huiyuan Group, Coca-Cola, Pepsi, Dali Group, Wanglaoji, Cestbon, Ganten, Uni-President Group, and Master Kong. Our main series of products is made up of heat shrinkable packaging machines, case erector packers, stacking systems, and conveying systems. Quality is what drives us forward and we have built a company strategy around delivering quality products and services to our valued customers.